Foodie Friday: Roasted Salmon, Avocado & Puy Lentil Salad
Model and nutrition enthusiast Karen Koramshai, shares an exclusive recipe for Foodie Friday – Fried Salmon, Avocado, and Puy Lentil Salad
Karen Koramshai is a model and cook and wellness expert.
Karen is also passionate about self-care launched her first website which is full of nutritious recipes and inspirational content to help others discover new ways to live tastier, healthier, and happier lives.
Fried salmon, avocado, and puy lentil salad
This delicious main course salad is packed positively with omega-3 fatty acids from salmon (important for brain function and cardiovascular health) and the avocados have three times more potassium than bananas.
The Puy lentils also have a good amount of protein and slow release carbohydrates that will keep you feeling full for longer.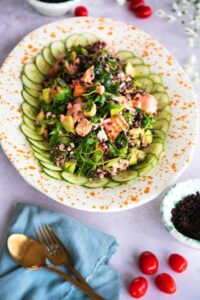 For 4-6
Ingredients:
500 grams of organic salmon fillet without bones and skin
1 large or 2 medium-ripe avocados peeled and chopped at the last minute
200 grams of cooked puy lentils (I use 'Merchant Gourmet' bags of cooked lentils, which are available in all good supermarkets)
A small bag of arugula washed and spun dry
1 small cucumber thinly sliced
salt and pepper
Dressing – makes more than you need, but keeps in the refrigerator in a tightly closed jar for a week:
200 ml of extra virgin olive oil
2 tablespoons of organic, unfiltered apple cider vinegar
1 teaspoon of Dijon mustard
1 small clove of garlic crushed
½ bunch of chives finely chopped
Method:
1. For the dressing, whisk the ingredients together in a small bowl and set aside.
2. Season the salmon well with salt and pepper.
3. Fry the salmon in a non-stick pan for 4-5 minutes on each side. After cooking it should still be a little pink on the inside. If you prefer your salmon cooked through, just cook another 2 minutes.
4. Set aside on a plate and allow to cool.
5. Mix the rocket, lentils and avocado in a mixing bowl with just enough dressing to coat.
6. Place the cucumber slices around the edge of a serving platter and layer the lettuce in the middle.
7. Flake the salmon and drizzle with a little more dressing.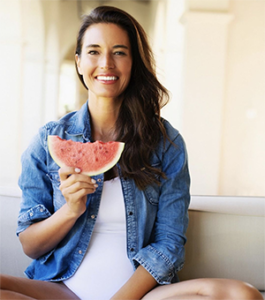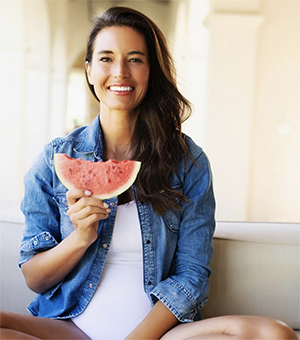 Karen Koramshai is a model, cook and wellness expert. Karen wants to lead the most nutritious and balanced lifestyle possible for herself and her family.
Inspired by her childhood in Brazil and her career as a model and commercial director for magazines like ELLE Paris, Karen Koramshai learned to love local food, from cooking to its nourishing and healing properties.
During her travels, Karen has learned to adopt new wellness practices and fitness methods and over the years has built her own network of experts in health, wellness, fitness, travel and beauty.
More from Karen Koramshai:
Foodie Friday: Chocolate & Peanut Butter Protein Balls
Model and chef Karen Koramshai shares 5 easy vegan snack recipes
Foodie Friday healthy lunch: peas, pesto and goat cheese bruschetta
Foodie Friday vegan recipe: smoked tofu & vegetable skewers with a spicy peanut dip sauce
Further Healthista content:
7 ways to get smarter without opening a book
Warning signs of cancerous birthmarks and what to do about them
How To Protect Yourself From Coronavirus Now Now That Things Are Back To Normal – An Expert's Guide
"The Skin Care Clinic That Helped Me Get Rid Of My Cystic Acne"
Thank You For Reading!

Reference: www.healthista.com