Are you feeling unhappy about symptoms of stress? From neck stretches to candles, Osteopath Kemmy Gichaba Reveals 7 Instant Stress Relievers You Can Perform At Your Desk
Everyone will experience symptoms of stress at some point.
In the fast paced society we live in, stress has become an all too common part of our daily lives, and while some can thrive in stressful situations, stress can have pretty serious effects on your health in the long run.
It can prevent us from being in a good mood, weaken our immune systems, and even affect our cognitive health.
Stress can have serious effects on your health
It can also lead to physical symptoms such as headache, gastrointestinal discomfort, trouble sleeping, or even high blood pressure.
Since we work at the desk for the majority of our week, there are a few simple things you can do on a daily basis that can provide you with almost instant relief from stress and help you be more focused, positive, and relaxed.
Here are seven stress fixes you can do from the comfort of your desk …
# 1 Sit up straight
Position is everything, and research shows that the position of the body can greatly affect the mind, mood, and stress levels.
For example, if you sit straight with your shoulders back and your head up, you will feel more confident, happier, and therefore less stressed.
Sitting with sagging shoulders tends to encourage low self-confidence and increased levels of stress and anxiety.
A properly aligned spine allows you to sit up straight without pain, and keeping your arms at a 90-degree angle will force you not to bend over your shoulders or shrug, which will reduce the build-up of stress .
# 2 Keep your feet on the floor
To maintain a fully upright, straight sitting position at your desk, it can be helpful to keep your feet firmly on the floor.
This means that you don't bend forward or twist your body in strange or unnatural positions, which can lead to a build-up of tension and pain that can add to your daily stress.
# 3 Look up
Aside from the position of your body being a great way to instantly relieve stress, the way you fix your computer or laptop screen can also be helpful.
For the best result, position your screen at eye level so that you don't strain your neck or eyes looking down or up.
Position your screen at eye level so that you don't strain your neck
These small changes get your neck and spine in good position so that you feel calmer and more comfortable overall.
You can either buy a laptop stand or just stack a few books on your desk to bring your screen to eye level.
# 4 Move your arms
If your arms are stretched out in front of you for most of the day, you may experience tension in your upper body. To combat this, open your arms and chest, then move your arms in circular motions.
Instead of keeping your arms in a static position, work the circular motion, making them wider and wider to open your chest wider and feel the stretch, which can help you feel more relaxed and release upper body tension.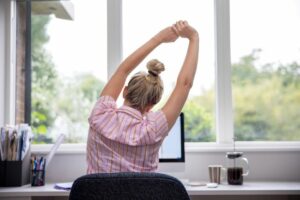 # 5 Inhale 10 breaths into the diaphragm
During times of stress or when you feel like your workload is overwhelming, simple breathing techniques can help restore a sense of calm and positivity.
An effective way to use breath work for instant relaxation is to practice the following. While seated, place one hand on your chest and one hand on your stomach.
Simple breathing techniques can help restore calm
The goal of this movement is to get the hand on your stomach to expand more with each breath while you focus on breathing into your stomach rather than your chest.
Focusing on your breath brings you back to the present and helps relieve stress. Take 10 breaths and see how you feel. You can repeat this anytime if you need to.
# 6 Soothing scents
There is an unquestionable relationship between scents and relaxation / stress relief.
When we inhale certain scents, they can trigger a response in our brain (limbic system) that triggers a response such as rest or energy in our body.
The limbic system also connects smells with emotions and memories and this can help restore a sense of happiness, calm, and serenity.
Fragrances like lemongrass, eucalyptus, lavender, and chamomile can be effective in reducing stress and anxiety. So for a quick fix and lasting relief, try lighting a candle at your desk.
Fragrances like lemongrass, eucalyptus, lavender, and chamomile can be effective for stress relief
I recommend Lemongrass and Eucalyptus Candle from Holistic Impact, £ 25that is perfect for relaxing and pampering. Lemongrass essential oil triggers the release of serotonin, the happiness hormone that can quickly make you more energetic and positive.
As an added benefit, it's made from organic coconut wax, which, thanks to a lower melting point than widely used soy wax, is known for its clean and long-lasting burn, ensuring your well-being without toxicity.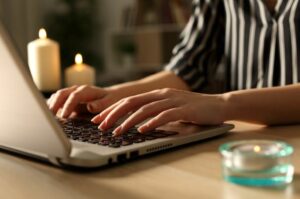 # 7 Stretch your neck and face
Stretching is an effective stress reliever strategy, but people often forget about the neck and face, which can get especially tight if you sit in front of a screen and focus all day.
When you're WFH, you may spend much of the day in silence, not even using your facial muscles to hold a conversation. Stretching the neck is incredibly easy and can be done anytime, anywhere.
A simple stretch can be done by guiding your neck with your hands and twisting it forward, back, and side to side. Your hands will help increase your range of motion.
Stretching the neck is incredibly easy and can be done anytime, anywhere
A good facial stretch can be done through your tragus (the opening of the ear) as this is where your jaw starts.
Follow your jaw as you open and close your mouth to find out where the joint is. To relieve tension in your jaw from clenching your jaw or grinding your teeth, press your thumbs along the muscle in your cheek while you focus on your desk.
Further Healthista content:
Leigh-Anne Pinnock & Lily James Personal Trainer shares 9 ways to get and stay in shape
A Gynecologist's Guide to Polycystic Ovarian Syndrome
5 natural substances for pain relief
Top Dentist In London Shows 8 Easy Ways To Keep Your Teeth Healthy
7 differences between migraine symptoms and normal headaches
Thank You For Reading!

Reference: www.healthista.com